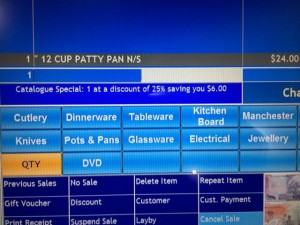 Retailers using our smart POS software can compete with bigger retailers when it comes to catalogue offers and buy 2 for 2 or other bundles.  Using the catalogue facilities in our software they are able to manage the bundles as well as promote these at the counter during the sale thanks to subtle prompts issued by the software – as shown on the screen.
The catalogue management tools enable our small and independent retail partners to more effectively compete with big retailers, to more finely tune their offers so they, too, can match the catalogue deals they see advertised.
Managed by date / time range, catalogue offers handled by our software are another way small business retailers can pitch themselves as offering a competitive value proposition.