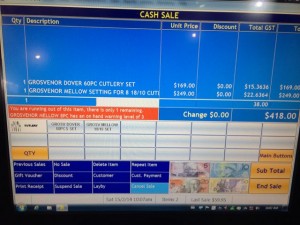 Small business retailers are often tight on inventory, putting off replenishing until the last minute. Thanks to timely warnings issued by our POS software in the Point of Sale screen, we warn retailers about imminent out of stocks as another reminder of their stock holding situation.
This on screen reminder is in addition to reorder facilities and other stock control / ordering /  tools in the software through which retailers are able to ensure they have stock on the floor at the right time.
The on screen reminder is another way we help retailers be ready in time.