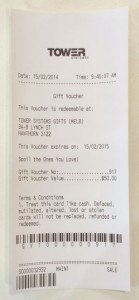 Retailers using the Tower Systems Point of Sale software have access to a range of gift voucher / gift card options in the software. The photo shows the simplest of the gift voucher options – a voucher printed on a receipt printer.
While not sexy, this voucher works where cost is an issue.
Our recommendation always is to go for a professionally designed and produced plastic card. However, if the cost of this is prohibitive the voucher produced using the receipt printer is an excellent option. Retailers can produce this right away without effort and at no additional cost.
This paper based voucher is a means through which they can sell to a customer who can't find the gift they are looking for.
It's another way Tower Systems helps retailers.