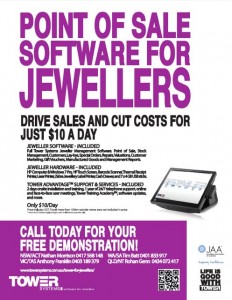 We are thrilled to feature the latest release of our Jeweller software in the next issue of the respected Jeweller magazine.
As a long-term member of the JAA industry association, we have a track record of working with and serving jewellers and jeweller suppliers through our jeweller software that is used in hundreds of jeweller businesses. This latest advertisement pitches our software as relevant and competitive.
More than just Point of sale software for jewellers, our Jeweller software goes into business process management, business planning, customer relationship management and employee oversight. It's a valuable tool designed to serve needs that are specific to jeweller businesses.