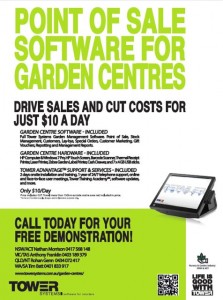 The latest release of our Garden Centre Software features in the next issue of Nursery & Garden Magazine in time for the Green Expo trade show that will be attended by many garden centre / nursery owners and managers.
As a sponsor of the Nursery and Garden Industry Association of NSW & ACT, Tower Systems is proud to support this wonderful retail channel and its retailers and suppliers – with good software designed to drive efficiency and success.
Using our Garden Centre Software retailers are able to more easily manage for success through closer supplier relationships and more attuned customer relationships.
The latest Garden Centre Software will be on show at the Green Expo trade show.