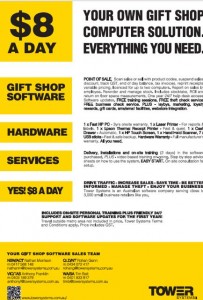 The Tower Systems gift shop software pitch is simple: software designed specifically for gift shops with hardware with on site installation with on site training and with one year of live 24/7 support: $8 a day.
This solution from Tower Systems gets better with time too as the software is regularly updated – enhanced based on suggestions from customers.
With hundreds of gift shops using our gift shop software we have an excellent community of businesses from which to draw ideas and inspiration to help maintain our position as loved and respected gift shop software.
The $8 a day offer is available now and is exclusive to Tower Systems.