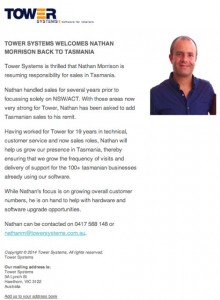 Tower Systems was thrilled to announce Nathan Morrison as taking over responsibility for sales in Tasmania as part of a series of moves within the business as it manages expansion.
Nathan brings 19 years experience with Tower in technical and sales roles. He also brings a love of Tasmania to this new role.
Helping Tower Systems to grow users in gift shops, homewares shops, jewellers, bike shops, garden centres, newsagencies and pet shops is Nathan's remit and already he is achieving good things for the company and those it represents.
Nathan can be reached on 0417 568 148.