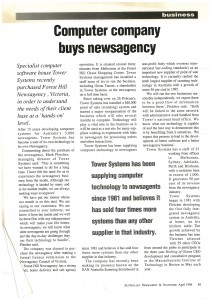 It was February 1996 when we purchased our first newsagency business, eighteen years ago. Looking back, this acquisition played a key role in the leadership position we would take in the newsagency software space in subsequent years.
Owning newsagency businesses for eighteen years has provided us with live trial sites where we and other suppliers can play under the radar, developing unique facilities that gave Tower a leadership position in terms of functionality which translated into sales leadership.
Today, Tower serves more than 1,900 newsagents. This more than three times the estimated newsagent customer base on the next biggest newsagency software company. While we are thrilled with this position, we ensure it does not go to our head – newsagents ensure this too!
The image is a copy of an article from Newsagent & Stationer magazine from April 1996.