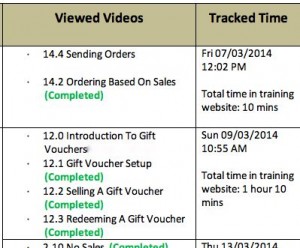 The exclusive and extensive suite of POS software training videos from Tower Systems accessible through our online curriculum management platform continues to win kudos from customers. This training permits genuine 24/7 training. It also helps retail business owners more effectively train new staff in the use of our software.
With all engagement tracked, retailers and their employees can see progress as users of the software work towards completing modules and thereby developing a mature and helpful knowledge of the software.
The image is a snapshot from the Tower website showing off videos that have been viewed by two different users.  In one case, a user of the software spend over an hour on training on Sunday March 9. The transparency of this data helps us, the user and the retail business owner.