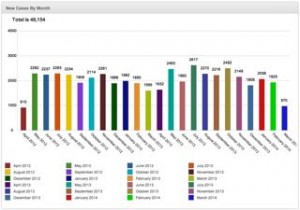 While user numbers for our POS software continue grow, calls to our help desk have remained steady over time. This is due to increased use of the extensive knowledge base that is searchable by our customers through plain English queries, the extensive professional video training library and our free one on one and live training opportunities that we lead with.
The graphic is a live image direct from the management dashboard of our Sugar CRM system that tracks all customer interactions here at Tower Systems. We can plot this help desk call data with video training engagement and knowledge base searches and see that the enhanced self-serve resources are being loved by our customers as they make the most of opportunities for learning more about our software.
Once you overlay customer and revenue growth you can see call traffic steady even with significantly more customers. the results are encouraging for us to invest even more in self-serve facilities. We have been doing this in 2014 already by publishing even more fresh peer-reviewed content into our knowledge base. We are thrilled and encouraged with customer feedback from this. Knowledge base content can be commented on in the knowledge base – allowing customers to add their own knowledge.
It's moves like these: transparency over call traffic, access to excellent training, access to a powerful and mature knowledge base and live one one one support that makes for good POS software customer service. It's a reason we're growing.