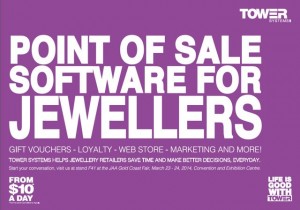 Tower Systems, a member of the JAA, is participating in the JAA conference / trade show event this coming weekend on the Gold Coast showing off the latest release of our jeweller software.
Our latest Point of sale software for jewellers is being used by jewellers who have switched from ARMS, Swim by Octahedron and Retail Edge. Our jeweller experts can help jewellers make the move to Tower. We can also help jewellers without software make the move to proven feature-rich jeweller software that has been designed to specifically serve the jeweller businesses – from the sales counter to the workshop.
Our software benefits from updates that include enhancement suggestions from our customers. This  transparent process of harvesting and nurturing suggestions from jewellers using our software has proved to be wise investment by us as it has brought our jeweller software even closer to the needs of proactive jewellers who want their software to help then focus on their own business points of difference.
On the Gold Coast in a couple of days be ready to see new software with which you can grow your jeweller business.