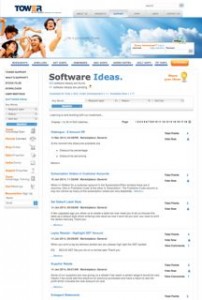 Many small business retailers using the POS software from Tower Systems actively engage in suggesting enhancements for the software and many of these suggestions make their way into the software.
Retailers regularly thank Tower for the opportunity to publicly make suggestions and for the transparency of voting by and feedback from others about the suggested enhancements. Indeed, the level of transparency Tower Systems has offered in this area for years now is rare. Some claim user engagement but it is hard to find another software company living the transparency claim like Tower.
The real test of the exclusive Software Ideas facility from tower Systems is the enhancements that make their way into the software. Hundreds of enhancements including new facilities, large and small, exist in the software today thanks to user engagement in making suggestions and voting on these suggestions. It is proving to be a valuable process for tower Systems and its retail business customers.
It is a measure of the company's confidence that the facility is promoted on its website home page and that the list can be accessed by anyone including competitors.
Software Ideas is managed by a senior member of the software development management team within the company and the overall Tower leadership team makes final decisions about ideas it embraces. All ideas receive feedback from the company.