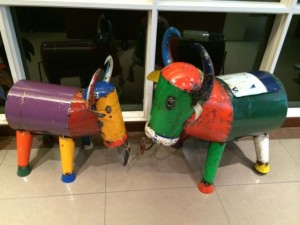 In the office for the last few days we have had these animals roaming around getting in the way.
Okay, the only roaming they have done is when we have moved them. No, we didn't ride them. They are part of a range stocked in leading garden centres, homewares stores and newsagencies with a strong gift pitch.
We have been fortunate to have the animals here thanks to some work we have been doing with a supplier. Getting to see products sold through our software and work through unique situations with some products can help us serve our customers better.
There aren't many software companies where developers, support team members and others get to play with products their retail customer sell.
We're not your average POS software company.