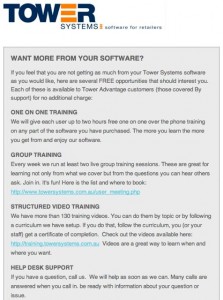 Tower Systems has been actively promoting its free POS software support services to its customers, to help them get more enjoyment and benefits from using the company's POS software.
In reaching out to customers and promoting easy access to one on one training, our exclusive video training curriculum, free weekly training workshops and our live help desk, we are helping our retail partners to better learn our software and through this more easily use the software.
We believe that knowledge is power and show our commitment to this through the extensive training and support opportunities we provide to our Tower AdvantageTM customers.