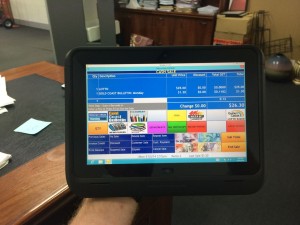 Check out the latest hands free fully functioning POS software terminal available to Tower Systems retail partners.
Having passed stringent testing, this new unit is ready for deployment as a wireless shop-floor fully functioning POS terminal with access to all the facilities available from our POS software from pricing new stock, transacting sales, completing a customer quote, handling a LayBy, ordering stock and managing shopper loyalty questions.
This portable unit is another sexy piece of retail business hardware from HP, our hardware partner.
While we have had this for a while, we're writing about it today to be more public about the offering that extends shop floor access to our smart POS software.
We have offered portable shop-floor POS terminals for a long time, this unit is the latest and it comes with some nice bells and whistles.