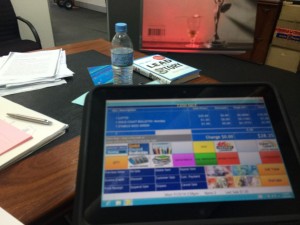 This photo shows the HP hands-free wireless POS software terminal being used in our office to scan an item. The built in scanner is an added bonus to the terminal. It helps retailers to scan sales anywhere in-store, no matter how far you might be from the sales counter. Retailers and open a new sales point in a busy season without having to go to the expense of creating and managing a new sales lane.
We appreciate the work we have been able to do with our partner HP in making this genuinely portable offering available and affordable.
While we have been in the portable access space with our software for years, this latest offer provides a more complete and more elegant solution. This is especially valuable in higher end retail situations where customers can spend $10,000 or more in a transaction and don't want to do this at a sales counter.