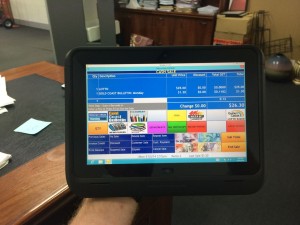 Retailers are responding with haste to the portable wireless shop floor POS terminal we launched earlier this year and just started talking abut here a week back. They love the portability, ease of use, warranty coverage and price. They also love that they have access to all our software through our Retailer Tablet Licence facilities thanks to our smart software integration.
Being retailers we have been able to test this product in a more proactive way than most software companies.
We are thrilled that retailers can open an additional retail lane easily, sell from the shop floor and undertake more work in the business without being tethered to the counter or back office.
The HP ElitePad is a true Retail tablet. This device is the perfect POS unit perfect for interacting with your customers on your shop floor. Containing an inbuilt 2D barcode scanner and additional battery allows you to work for hours without being tethered to your desk or counter. Included is a full licence and copy Retailer transforming this device into a full service computer allowing you to perform stock takes, invoice arrivals and returns live via your wireless network.