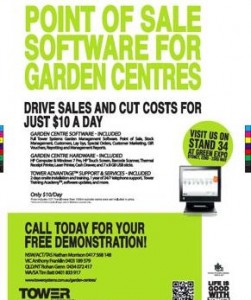 Tower Systems is thrilled to be supporting the national Green Expo event in Sydney with fresh software backed by fresh marketing in the industry magazine and other very special support on the floor of this important exhibition.
Developed specifically for Garden Centres, our Garden Centre software is packed with facilities that will deliver time-saving and business-building benefits.
Being part of the garden centre of the future opportunity at Green Expo helps show off other benefits of partnering with Tower Systems.
We appreciate the support of the NGIA in being able to present our software at this valued event.