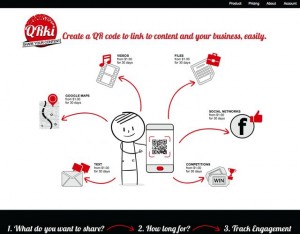 Here at our Point of Sale software company we seek out opportunities to support small businesses, especially small and independent retail businesses as part of a whole of business social responsibility commitment.
We often invest our own time and money in projects where we feel we can help these businesses grow. It is part of our pro-bono work helping small business without an expectation of any revenue benefit for us.
QRki, a QR code generation and content access platform for retailers and other small businesses as part of our social responsibility commitment.
Retailers and other small business operators can make videos, files, competition entry forms, Facebook links and other online content accessible through a unique QR code they generate using the QRki website.
We created QRki to help small businesses harness the opportunity of QR codes without needing to invest in software of their own.
QRki is free.
Developed in Australia but for use from anywhere in the world, QRki is another example of cloud based innovation for small businesses.
QRki is available now for anyone from anywhere to use regardless of POS or other software used in the business.