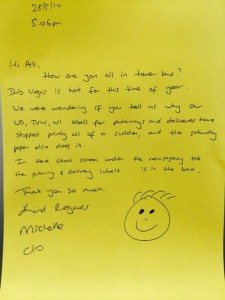 Here at Tower Systems we hear from our POS software customers by phone, email fax and even letter with questions on how to use the software. Some communications stand out more than others – like this one from one of our clients in Dubbo New South Wales.
We love the reference to Dub Vegas. We love the smiley face with hair. We love the appreciation. We love the relaxed style. We love the clear communication.
We are very lucky to have customers like this. It makes our days!
Footnote: we removed identifying details from the fax out of respect for client privacy.