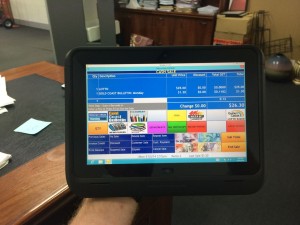 The feedback from garden centre owners and staff at the launch of our portable POS software terminal for garden centre software users recently has been wonderful. On the floor of the Green Expo the new terminal was a hit and in the time since out in the field Garden Centre staff have loved playing with the unit and seeing how it could serve their specific business needs.
While we are primarily a software company, having an engaged hardware business partner in HP helps us to deliver excellent outcomes to our customers for hosting our software where and how they want.
Fully functional POS software wirelessly in your business anywhere makes life easier for many businesses.