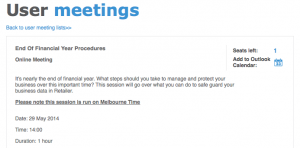 POS software expert company Tower Systems is scheduling more EOFY POS software training for retailers using its software following the filling of already scheduled sessions.
The free online training workshops from Tower Systems continue to be enjoyed and embraced by the Tower user community. Run with consistency and transparency by the company, the workshops cover broad range of topics.
The EOFY training is available in several topic areas. The information covered is also accessible at any time from the company's knowledge base – making it easy for Tower retail management software customers to learn about End of Financial year requirements and opportunities when and where it suits them.