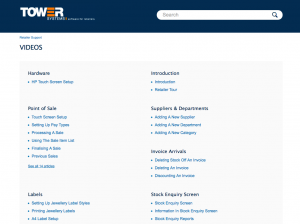 Thanks to multiple access points Tower Systems makes accessing our POS software training videos easy and fast. In addition to a traditional menu approach for listing videos, Tower customers can search based on keywords – looking for videos that suite an immediate need and or interest they have.
With the most comprehensive online training library in each of our vertical markets, Tower Systems demonstrates leadership for the small business retailers it serves today and will serve tomorrow.
That the video training resources are available 24/7 we are giving our customers access when and where they need.
We are committed to updating the video training resources based on customer feedback.