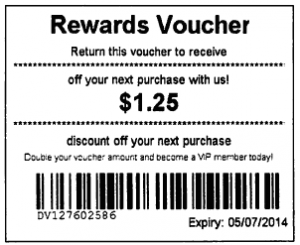 This different type of shopper loyalty reward from within our Tower Systems Point of Sale software, a  Rewards Voucher thanks a customer for shopping and gives than $1.25 they can spend right away on something else.
Owners of gift shops, garden centres, pet shops, jewellers and newsagencies have shared data with us showing the valuable bottom-line effectiveness of these rewards Vouchers, effectiveness at bringing shoppers back days later as well as effectiveness in getting one-time-only shoppers purchasing something else in the business.
The business performance results for the vouchers in some businesses are extraordinary with many businesses reporting double-digit year on year growth … wonderful bankable results.
We are thrilled to be part of this success story.