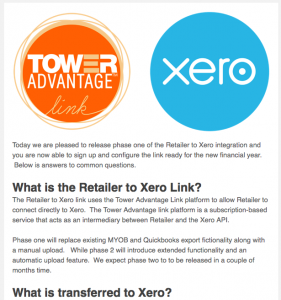 It's official! Tower Systems has launched the Xero integration option with its POS software in a formal announcement to its customers sent by email last week.
The announcement from Tower detailed the connectivity approach, pricing, technical details and other aspects of the Xero POS software integration that the company has been using in its own retail businesses for some months now.
Interest in the Xero integration has been strong from the preliminary announcements made y the company. Xero is clearly popular in independent retail and the accounting businesses that serve them.
We are thrilled to be bringing the POS software Xero integration solution to market and appreciate the support from the team at Xero to make this happen.