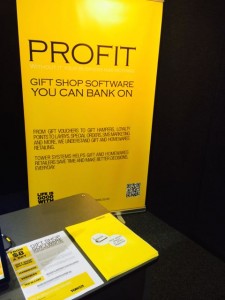 Retail is detail as they say and Tower Systems is a detail focused company when it comes to pitching its respected and loved  Gift shop software to retailers.
Take the pitch to gift shop owners. The Tower gift shop software is promoted through yellow collateral – from the pull up banners to brochures to flyers and other collateral, yellow connects these visually, showing that the company understands about branding and consistency in retail.
This use of colour is another way the company demonstrates an understanding of retail and the importance of these factors to retailers.
Retailers want software they can trust and visual consistency by a software company us a cue you can trust them to be consistent with their software.