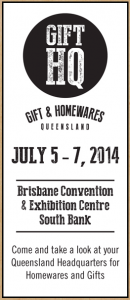 Tower Systems is thrilled to be the only gift shop software supplier at the Gift HQ trade show starting this weekend in Brisbane.
On show will be the very latest version of our Gift shop software along with examples of how we help gift shops and homewares shops and their suppliers to better connect for profit and enjoyment.
This trade show is important for Queensland businesses as it provides them with a local event through which to see the latest trends in products to retail while also seeing best-practice software and how it can help them sell more products.
With hundreds of gift shops using the Tower software and thanks to a solid relationship with the industry association, Tower Systems is well positioned to help gift retailers move to the next level through loyalty, supplier connect, employee management and theft tracking tools.