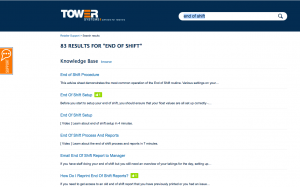 The end of a shift in retail is an important time as it brings together data, cash and other informations and insights about the business. It can feed seamlessly into xero and other accounting packages and it can provide guidance comparisons on trading. In the Tower systems Point of Sale software retailers are able to achieve plenty through end of shift (EOS) processes.
Tower Systems helps its retailers get more from the end of shift processes through wonderful live training opportunities as well as through a deep well of knowledge in our knowledge base. A search this week shows there to be 83 articles. This includes professional training videos.
Our customers love our knowledge base resource as it is interactive. They can comment on knowledge and give us a thumbs up – that's what the green thumbs indicate.
Our knowledge base is the envy of some competitors. It's a reason some retailers switch to tower – once they see the help available 24/7 and compare it to what they have had access to they love the professional approach we have taken.