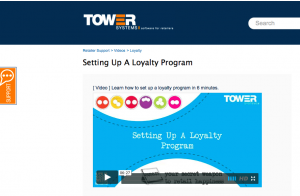 Tower Systems helps retailers run loyalty programs: from one on one training to live group training workshops the compare offers personalised and interactive training. It supplements this with excellent training videos that professionally support how to establish a loyalty program in your retail business using our software.
The screen shot on the left shows how our customers can access one of the training videos – from within our mature and content-rich POS software knowledge base.
This video is another example of Tower Systems delivering on its support promises. rather than announcing what we will do as is often the case with software companies, we have delivered excellent support and training resources that our customers can access when and where they want.