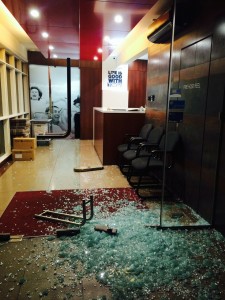 The head office of our software company was hit with another break-in. The third here in just over two years. This time, nothing was taken, making the break-in all the more curious.
Thankfully, police detectives are on the case, considering all angles in their enquiries. Today was all about crime scene investigation and other work looking for clues – and then the clean up of the damage and securing the building.
One option being considered is that we were specifically targeted. While we are not jumping to conclusions we are, naturally, concerned that it is even a consideration.
Our infrastructure is unaffected. It's business as usual for our customers.