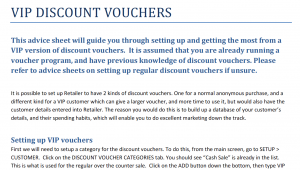 Some retailers prefer to give customers a card and to accrue points to a loyalty program based on purchases. Others prefer a voucher offering $$$ off their next purchase to drive faster loyalty.
Thanks to smart software development, using the Tower Systems Point of Sale software retailers can  combine both using its- a VIP card and discount vouchers to bring to retailers and their customers.
The combined VIP Discount Vouchers are a powerful double-value customer engagement device – available to all retailers using the Tower software. It's a facility that has been in the software from the launch of these loyalty tools, something some retailers have been using with success for quite some time.
To help retailers understand the opportunity and to leverage it for their commercial benefit, we have added fresh advice and content on VIP Discount Vouchers to the knowledge base accessible by our customers. This is another way tower Systems is helping retailers to get more from their software.