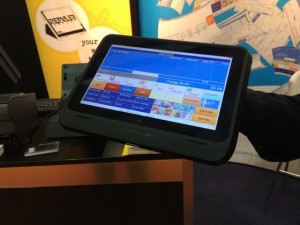 More and more retailers are embracing the portable POS terminal and POS software from Tower Systems as they leverage the shop floor to win business from browsers before they move out of the shop.
Thanks to smart POS software development and a tight and co-operative partnership with HP, Tower Systems has been offering its latest shop floor solution for some months with plenty of take up.
The new HP / Tower union was on show at a trade show recently (see photo) where it caused a stir with retailers as they expressed excitement at what they saw – a fully function POS software application running wirelessly and away from the counter – delivering the flexibility bricks and mortar retailers have long sought as they compete with online retailers.