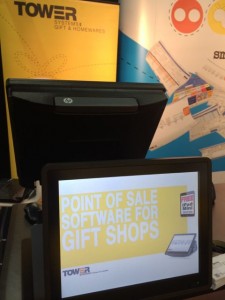 The photo shows how a customer-facing screen in a retail business using our POS software can promote the business to drive impulse purchases to shoppers facing the sales counter. This ad careen and software serving ads on the screen is part of the solution embedded within the Tower software.
Available on a range of computer hardware, the photo shows a new release of the HP all in one POS register. Tower Systems is a key partner of HP.
Note the visual link between the ad on the screen and the pull up banner behind the counter – this shows off how a retailer can visually connect ads and in-store displays.