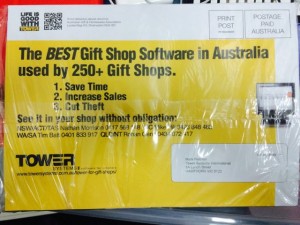 The POS software for Gift Shops from Tower Systems features on the flysheet for the catalogue just sent out to all gift shops and gift wholesalers in the lead up to there Melbourne Home and Giving Fair.
This new marketing extends the reach of the Tower software around Australia and to New Zealand as the company reaches out to serve more small and independent gift shops with software tailored to their specific needs and to help them better connect with their specialist product suppliers.
In addition to pitching the software, the Home and Giving catalogue marketing also provides gift retailers with a link to the Tower Gift Shop Software landing page on our website through which they can learn more about the software and see a video with even more information./
As by far the most widely used gift shop software in Australia and the software with long term and deep connections between retailers and their suppliers, Tower Systems is proud to support the industry association, the AGHA, with this catalogue promotion.