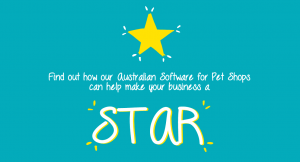 Pet Shop Software experts Tower Systems last week launched a campaign encouraging pet shop owners, managers and employees to make their businesses a STAR.
The campaign has been launched through professionally developed postcards with a special treatment to make them stand out from the crowd.
The optimistic forward-thinking messaging encourages pet retailers to work on a bring and positive future as they grow using the marketing and management facilities in the software developed specifically for pet retailers.
The post card also pitches our software company outside the usual IT business pitch. It shows us as being relevant and connected to the success of the businesses using our software. It also shows us focussing on the positive and pitching that we can help create good news, we can help make businesses star.