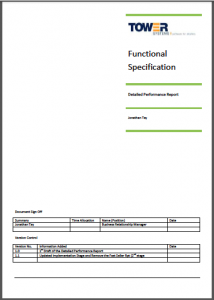 POS software company Tower Systems takes a professional and inclusive approach to developing key enhancements to its retail management software. This approach includes preparing written specifications for new functions and major enhancements to existing functions.
Written specifications are peer reviewed and user reviewed, to ensure that they are a comprehensive as necessary to provide the business case and the technical roadmap to creating the required new facilities and or enhancements.
The user review process can also include suppliers to retailers using the Tower software. This can be a drawn-out process given the number of people and businesses involved. the result is better software covering more facilities and delivering better outcomes for customers.
Software development is all about delivering access to facilities that are genuinely useful to our customers. The tighter the management of the development of our software the better the solution.
Too often, software companies in our small business channels develop software without a plan, without standards and without a vision that includes the vision of the end user. The tower Systems approach to structured software development is a key factor in our sales success and in customer retention success.