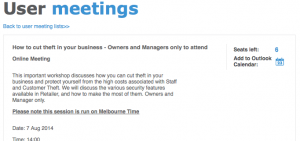 Retailers using the Tower Systems POS software are embracing our latest online training opportunities including the How to cut theft in your retail business live and interactive workshop coming up on August 7.  This session will fill up. We have more coming on the schedule.
Tower Systems demonstrates its commitment to consistent access to free post-installation training with workshops like this one, workshops that are valuable to retailers using our software.
Theft – employee theft and customer theft – continues to have a high cost for small and independent retailers. Tower Systems actively helps retailers to recent the impact of theft through personal training like this latest workshop. Being for owners only, we have a safe place where we can take people deep into the theft mitigation facilities in our software.