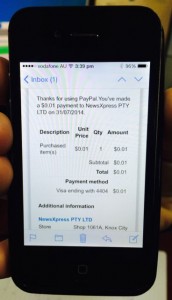 Customers using PayPal to pay for goods and services in a business using the tower software receive a receipt on their PayPal app – giving them immediate certainty about the transaction and the handling of it by PayPal.
The image shows the receipt issues by PayPal through iteration with our software in a live use a few days ago.
Connecting our software to the secure PayPal server and through this to a customer's mobile device via the PayPal app is an excellent ethnology feat we are delivering to small business retailers – enabling them to compete with bigger retailers moving to more flexible payment options.
Tower Systems was selected by PayPal to lead this integration in our key marketplace. Being first is an advantage we're thrilled about.