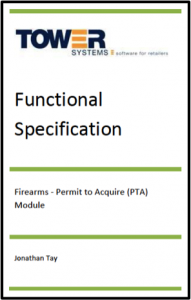 Firearms retailers can rely on our Firearms retail software to continually improve to better serve their businesses.
Thanks to advice from several firearms retailers and state based regulators we are creating a new firearm permit to acquire (PTA) tracking facility.
Firearms retailers and their staff have directly guided this software development project.
Coupled with our advanced serial number tracking tools, you will be able to track a specific firearm back to a permit.
Where regulators permit, our software will create a file you can upload to meet regulatory reporting requirements.
We are ensuring that through this software we help you meet all published regulatory standards in anywhere in Australia.
As the owner of Tower Systems I stand behind our software. We will continually improve our firearms retail software to ensure it serves your needs well into the future.
Call one of our Firearms retail software experts today an obligation free in-store demonstration:
NSW/ACT/TAS: Nathan Morrison – 0417 568 148.
VIC: Mike Hill – 0423 848 482.
SA/WA: Tim Batt – 0401 833 917.
QLD/NT: Paul Slater 0434 365 789..