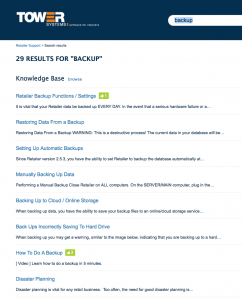 Our rich content POS software knowledge base is full of advice and assistance for retailers using our Point of Sale software on how to do safe and fast backups of business data. This advice includes information on off site backups for speed and security in any size and scale of business.
The image shows some of the backup specific content on our knowledge base that can be searched by our customers. This rich resource is in addition to live help desk support available to our users as well.
Offering access to a range of backup options including cloud based services retailers partnering with us have choice available to them.