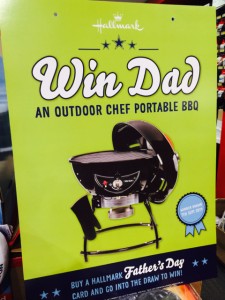 Thanks to receipt options and other facilities in our POS software, retailers can help drive shopper engagement in competitions – such as the Hallmark cards competition offering the opportunity to win a $500 BBQ in participating stores that's running at the moment.
Retailers can promote competitions like this on their receipts. They can also promote it on customer displays. This type of promotion is free. It is excellent use of existing retail management infrastructure – manages by our POS software as directed by our retailers.
Connecting shoppers on receipts and at other touch points with in-store promotions such as the BBQ prize adds value to the in-store promotion and drives the likelihood of shopper engagement in the promotion.
Smart use of our smart POS software drives better outcomes for our retail partners.  Our help desk enjoys helping retailers to leverage these opportunities.