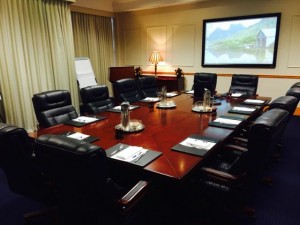 A group from our Tower Systems head office had a terrific morning Tuesday this week meeting with users of our POS software in Launceston, talking about the next software update, sharing training and covering some business management opportunities in the software.
We were fortunate to be located in the warm and beautifully-appointed boardroom of the Clarion Hotel, a luxury heritage hotel in downtown Launceston.
The meeting started with a fully catered breakfast of scrambled eggs, mushrooms, bacon and muffins plus fruit, juice, coffee and tea. The 7am start on a cold Tassie morning makes a hearty breakfast important.
Participation in the meeting was free to Tower Systems customers.
The Launceston meeting is the latest in a series by the company putting its leadership team in front of customers.
This is customer service.