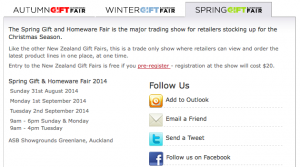 Tower Systems is thrilled to be showing off its latest POS software for gift shops at the Spring Gift Fair in Auckland starting from tomorrow.
As the only POS software company at the fair we will embrace helping gift and homewares retailers to make the most of smart Point of Sale software in their business.
We will be showing new POS software for gift and homewares retailers, software is is being released in the next couple of weeks, software that delivers new facilities based on the latest international retail trends for small and independent retailers.
If you are at this terrific Auckland gift fair event, be sure to stop by our stand and say hi.