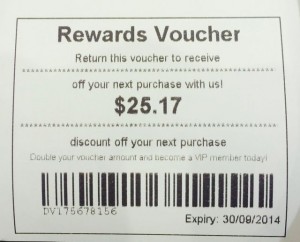 More retailers are reporting excellent year on year growth as a result of the Discount Vouchers facilities exclusively in the Tower Systems Point of Sale software.
Gift shops, garden centres, jewellers, bike retailers, newsagents and homewares stores are among the businesses excited by what they see in success achievable from the rich and rewarding Discount Vouchers facilities.
At several recent trade shows we have seen a fatigue among retailers with the old points based programs given that every other retailer has one. The reaction to the uniqueness and value of Discount Vouchers makes them as appealing to the business as to the shoppers.
In the Tower software retailers have access to exclusive and sophisticated tools for driving shopper engagement in accruing $$ value as well as in redeeming value.
The other benefit delivered by Tower is the business engagement training for staff – to help them get the most of the opportunity and to maximise shopper engagement from the sales counter. This is where we go way beyond the usual software company and offer extraordinary help to help retail businesses leverage the maximum value.