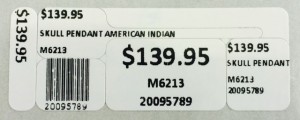 As retail evolves with bricks and mortar businesses diversifying, flexibility in POS software is more important than ever. We saw a good example of this recently when a newsagent diversified into jewellery and needed jeweller labels for their range of rings, pendants and bracelets.
Thanks to jeweller labelling facilities in our POS software, we are able to produce a professional and flexible label with four parts that are ideal for all sorts of jewellery situations.
Labelling jewellery without harming the product is important as is labelling the box for the item as well as any other part of the package such as the storage bag.
Having thought through these requirements and already serving hundreds of businesses in this area enables Tower Systems to offer proven flexible solutions.