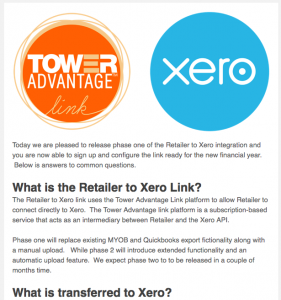 The  Tower Systems POS software / Xero accounting link is being embraced by more retailers.
Using the Xero link in our own retail businesses and having had it vetted and approved by our own Financial Controller, we can speak from experience about the value of the Xero link to a busy independent retail business.
This link cuts mistakes, eliminates workload and results in more timely and accurate accounting information.
Tower backs the link with training and live support. We also back it with access to our in-house accounting experts who can provide insights from their own use of the back end.
It's our use of our software and Xero as retailers ourselves that really sets us apart.