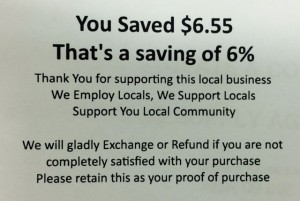 Retailers using the POS software from Tower Systems have many options for for reinforcing the value of shopping in the business – like including a personalised note on the receipt showing the saving achieved with this purchase.
The image shows one such saving note on a receipt produced by the software. The note is produced as a result of rules setup by the retailer using the software.
The You Saved $6.55 message is strong. It's reinforced by That's a saving of 6%. this messaging pitches the retail business after the sale is down, when the shopper is home and unpacking their purchases.
This is another way Tower Systems is helping small and independent retailers to compete with major retailers.