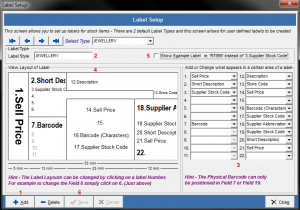 Jewellers love that they have control over the design and layout of jeweller product price and barcode labels using the Tower Systems jeweller software.
Using a setup screen in the specialist jeweller software, jewellers are able to make their labels unique to their business. They can include on the label the information important to them – to enable their employees to drive sales on the shop floor based on the data on the labels.
The flexibility in the Tower Systems jeweller software is another feature loved by users. It is also another part of the software which has benefited from feedback by users.