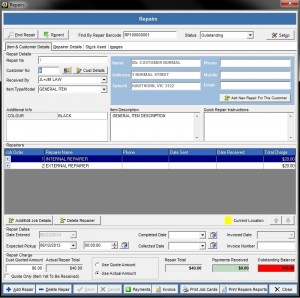 The repairs management facilities in the Tower Systems bike shop software are an excellent example of the value of software personalised to a specific retail channel.
Developed by Tower Systems in consultation with bike retailers, the repairs management facilities are part of a suite of facilities developed specifically for bike retailers to enable them to provide specialised services that set them apart from online businesses – and thereby more effectively compete.
This screen shot shows one of the screens used by bike shop staff to track repairs and provide certainty of service.
Tracking in-house and externally undertaken repairs enables a bike shop to track in one place the details important to the repair, the customer and the business itself.
The Tower Systems bike shop software is widely used throughout Australian and New Zealand.