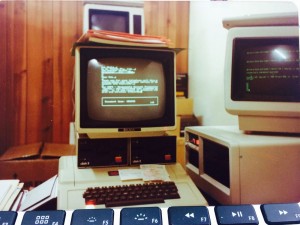 This is where it all began for Tower Systems – back in 1981 – before we sold our first system. This photo shows the first computer in which we started developing small business applications.
This tiny Apple II+ with dual floppy drives was our first development platform. It was new and exciting and fun to develop on. While storage on the Apple II+ was limited we made the most of the opportunity to provide small businesses with tools that cut labour intensive data related tasks.
While the software we sell today is generations beyond what we developed in 1981, the principles are the same – to offer our customers software facilities through which they can save time and money and on which they can rely to make better quality business decisions sooner.